Posts for: February, 2021
By James D. Reynolds, D.D.S., Ltd.
February 20, 2021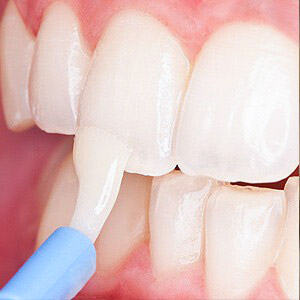 Tooth decay is perhaps the biggest danger your child's teeth can face. Not only can it rob them of primary teeth now, but the loss of teeth at this early age could also lead to future bite problems.
That's why it's important to reduce the risk of tooth decay through daily brushing and flossing and regular dental cleanings. You child may also benefit from another measure that enhances those other hygiene efforts—topical fluoride applied directly to tooth surfaces.
Fluoride is a naturally occurring chemical that's been demonstrated to strengthen tooth enamel against contact with acid, the main cause of tooth decay. Today, fluoride is added not only to toothpastes and other dental hygiene products, but also in minute amounts to drinking water supplies across the country.
Even if your child takes in fluoride through one or more of these sources, there may still be a benefit to a topical application. For one, topical applications are usually stronger than fluoride toothpaste or fluoridated water supplies and can have greater effect. And because fluoridated water is ingested first before traveling through the bloodstream to the teeth, directly applied fluoride can strengthen them much faster.
But are these stronger concentrations of topical fluoride safe? Studies have shown no long-term health risk, but there can be temporary side effects like stomach pain, vomiting or headaches if the patient accidently swallows too much of the solution during the application. These side effects, however, can be minimized through safety measures dentists put in place during the procedure.
One study by the Cochrane Oral Health Research Group seems to show that the long-term benefit of topical fluoride is well worth this minor risk of side effects. After reviewing several scientific studies involving thousands of patients, the group found an overall 28% reduction in decayed, filled or missing teeth over a number of years among those who received a topical fluoride treatment.
Because of these and other forms of evidence, fluoride applications in either gel, foam or varnish forms have become a routine part of preventive care for children. Discussing it with your dentist, you may find it could be an extra weapon for your child in fighting tooth decay.
If you would like more information on how to protect your child's teeth from decay, please contact us or schedule an appointment for a consultation. You can also learn more about this topic by reading the Dear Doctor magazine article "Fluoride Gels Reduce Decay."
By James D. Reynolds, D.D.S., Ltd.
February 10, 2021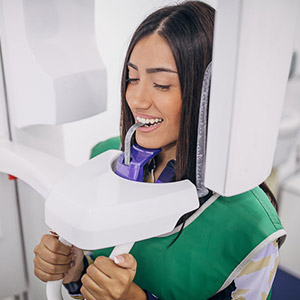 When dental implants hit the scene in the 1980s, they revolutionized the field of dental restorations. But as groundbreaking as they were then, they're even more advanced now.
Some of the advancements have to do with improvements in implant design and manufacturing. Implant sizes and shapes were once quite limited, but today they come in a variety of forms to better match the types of teeth they replace.
But there has also been important progress in complementary technologies that help us realize better outcomes. Many of these other advances have had a positive impact on the planning and surgical stages of implant installation.
CT/CBCT scanning. For the best outcome, it's critical to install an implant at the most appropriate location on the jaw. This can be difficult to determine, however, because of the location of oral and facial structures like nerves or sinuses that might interfere with implant placement. But using a type of computer tomography (CT) scanning called cone beam CT, we can produce a 3-D computer graphic image that helps us navigate possible obstructions as we pinpoint the ideal location for an implant.
Digital smile displays. We're now able to produce digital models of the mouth, which can assist with more than implant placement—we can also use them to visualize what a new smile with implants will look like before we install them. This is especially helpful in situations where only a few teeth need to be replaced: We want to ensure that the new implant crowns blend seamlessly with the remaining teeth for the most natural appearance.
Custom-made surgical guides. We've been using surgical guides to mark the exact drilling locations during implant surgery for many years. But 3-D printing technology can now help us produce surgical guides that are even more useful and precise. Using a 3-D printer, we can produce oral devices based on the patient's individual dental dimensions captured through digital scanning. That produces a better fit for the guide on the teeth and more accurate implant placement.
Together, these and other technological advances are helping us achieve even more successful results. Not only can they help us produce implant outcomes that can last for years or even decades, but also the most beautiful smiles possible.
If you would like more information on dental implant restorations, please contact us or schedule an appointment for a consultation. You can also learn more about this topic by reading the Dear Doctor magazine article "How Technology Aids Dental Implant Therapy."